12V Red Fahrenheit Digital Temperature Meter -76F~999F LED Display with Industrial Grade 0.5m K-Type Thermocouple Temperature Sensor M6
00d : 00h : 00m : 00s
Product Details
Description:
High Temperature Measurement: The K-type Thermocouple Thermometer can measure temperature -76F~999F. When the temperature measurement range is -9.9~99.9 F, the minimum temperature measurement is 0.1 F, and the other ranges are 1 F. Thermometer

Fahrenheit LED Digital Display: Larger and brighter font display allows you to easily observe the temperature status of your device.

Industrial Grade K-type Thermocouple M6 Probe: The thermometer uses a K-type thermocouple sensor with a cold junction compensation function, which effectively avoids the influence of ambient temperature on the sensor, making the temperature measurement more accurate. Because the temperature measurement range is wide, there are some errors in temperature measurement, and the error is normal within ±10℉/1%

NOTE: We strongly recommend you to wrap the probe with insulating tape to avoide static interference. It'd be better to use a insulated probe if possible.
Application: Widely used for Industrial temperature measurement, measurement of temperature in the life. Applied to the measurement of boilers, air, liquids, etc.



Features:
Use industrial grade K-Type sensor
Red Digital LED Display
Measuring temperature range is wide
High precision detection
Display in Fahrenheit
With temperature compensation function
Effectively avoids the influence of ambient temperature on the sensor, and the temperature measurement is more accurate.

Sensor wire should not be connected incorrectly

Power wire attention direction

Temperature error rate: 1%

The measurement temperature error is normal within 10℃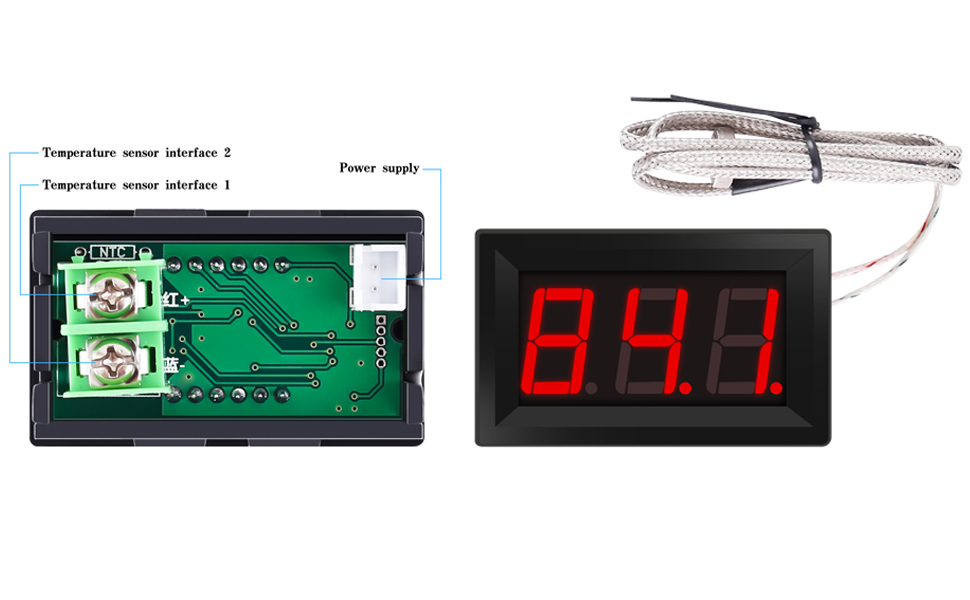 Parameter:
Product name: K-Type High Temperature Thermometer
Work voltage:DC 4.0V-28V
Temperature type:Fahrenheit
Measure range:-76F~999F
LED Display:Red 3Bit
Length of sensor:0.5meter
Probe thread:M6
Size for display:48*29*25mm
Measurement accuracy:1F(It is 0.1F when temperature is -9.9~99.9F)

Use steps:
1>.Connect sensor to display screen in right terminal.
2>.Place the sensor in the correct position.
3>.Connect to power supply white socket.Pay attention to the connect direction.