5PCS DIY Kit Light Control Switch Adjustable LED Lamp Circuit Electronic Soldering Kits for Beginners
00d : 00h : 00m : 00s
Product Details
1.Introduction:
TJ-56-454 is a Light Control Switch Adjustable LED Lamp Circuit Electronic Soldering DIY Kit. It is a simple and basic LED lamp brightness control circuit. The LED brightness can be controlled by a photosensitive sensor, and the LED brightness can be automatically adjusted according to the ambient brightness. The darker the environment, the brighter the LED.Potentiometer is used to adjust sensitivity.

2.Feature:
1>.Automatic adjustment of light control brightness
2>.Simple and convenient operation

3.Parameter:
1>.Product Name: TJ-56-454 Light Control Switch Adjustable LED Lamp Circuit DIY Kit
2>.Work Voltage:DC 3V
3>.Work Temperature:-40℃~85℃
4>.Work Humidity:5%~95%RH
5>.Size(Installed):23x18mm

4.Component Listing: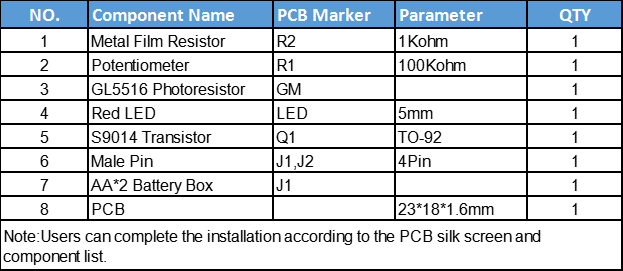 5.Installation Tips:
1>.User needs to prepare the welding tool at first.
1.1>.Soldering iron (<50 Watt)
1.2>.Rosin core ("radio") solder
1.3>.Wire cutters
1.4>.Wire strippers
1.5>.Philips screwdriver
2>.Please be patient until the installation is complete.
3>.The package is DIY kit.It need finish install by user.
4>.The soldering iron can't touch the components for a long time(1.0 second), otherwise it will damage the components.
5>.Pay attention to the positive and negative of the components.
6>.Strictly prohibit short circuit.
7>.User must install the LED according to the specified rules.Otherwise some LED will not light.
8>.Install complex components preferentially.
9>.Make sure all components are in right direction and right place.
10>.It is strongly recommended to read the installation manual before starting installation!!!
11>.Please wear anti-static gloves or anti-static wristbands when installing electronic components.