DIY Kit Automatic Energy-Saving Control System Analog Circuit Street Lamps Electronic Soldering Kits
| | | | |
| --- | --- | --- | --- |
| Quantity | 5+ | 10+ | 20+ |
| Price | $3.40 | $3.30 | $3.00 |
00d : 00h : 00m : 00s
Product Details
TJ-56-44 is a Automatic Energy-Saving Control System Electronic Soldering DIY Kit. It is a basic street lamp control system, which uses photosensitive sensors to control the light on and off.
Sensitivity can also be adjusted by potentiometer. The lights are all on when the environment is dark; At midnight, half of the LED lights will go out to save energy.
It is a very interesting DIY electronic product which enables users to understand the circuit more clearly and learn soldering skills.
1>.Product Name: TJ-56-44 Automatic Energy-Saving Control System DIY Kit
2>.Work Voltage:DC 9V-12V
3>.Work Temperature:-40℃~85℃
4>.Work Humidity:5%~95%RH
5>.Size(Installed):85x56mm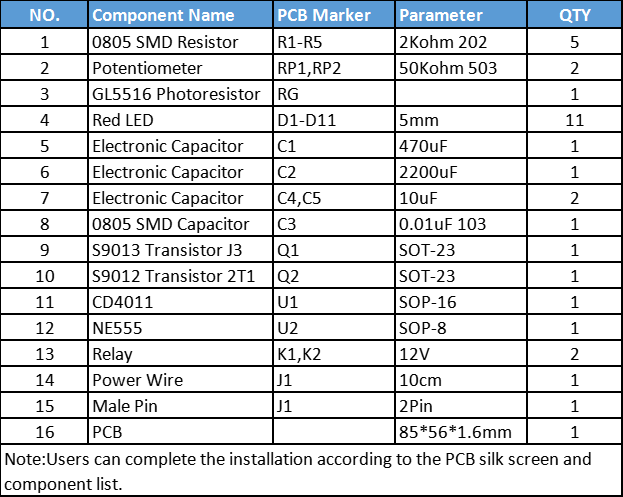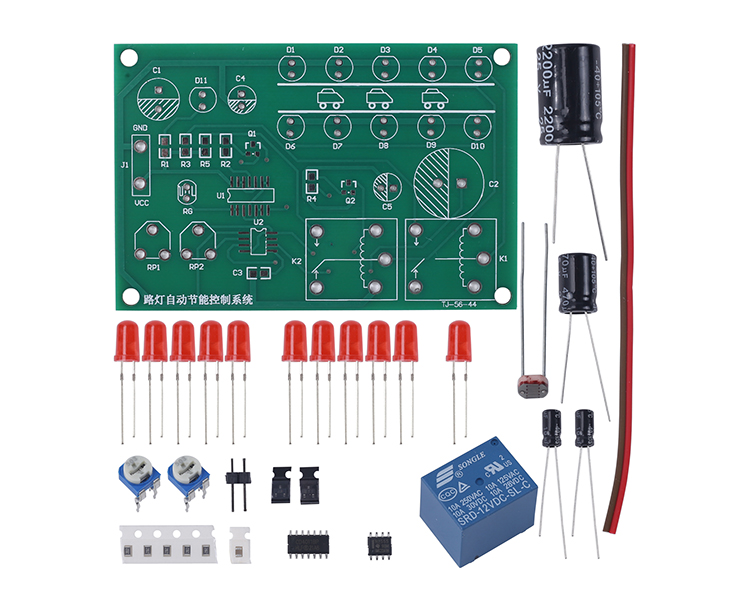 1>.Training welding skills
5>.Electronic competition
1>.User needs to prepare the welding tool at first.
1.1>.Soldering iron (<50 Watt)
1.2>.Rosin core ("radio") solder
2>.Please be patient until the installation is complete.
3>.The package is DIY kit.It need finish install by user.
4>.The soldering iron can't touch the components for a long time(1.0 second), otherwise it will damage the components.
5>.Pay attention to the positive and negative of the components.
6>.Strictly prohibit short circuit.
7>.User must install the LED according to the specified rules.Otherwise some LED will not light.
8>.Install complex components preferentially.
9>.Make sure all components are in right direction and right place.
10>.It is strongly recommended to read the installation manual before starting installation!!!
11>.Please wear anti-static gloves or anti-static wristbands when installing electronic components.