Enameled Copper Wire, 0.3mm×20m Magnet Winding Wire Transformer Insulated Copper Coil, Withstand Voltage 3000-5000V
00d : 00h : 00m : 00s
Product Details
Description:
【Not Easy Short Circuit】: This enameled wire is made of pure copper inside, with insulating paint on the surface, and the insulating layer is made of polyester patent leather, which can protect the coiled wire from short circuit.
【Pressure /Temperature Resistance】: The pressure resistance range is 3000-5000V, and the temperature resistance is 130-180 ℃, which can meet various occasions.
【Wide Application】: This enameled copper wire can be widely used in physical science experiments, small generators, motors, coils, transformers, inductance wires, copper wires for maintenance, etc.
【Easy to Storage】: When you're done and ready to put away the enameled wire, it easily rolls back into its own spool, taking up minimal space for quick and easy storage.
【Durable】: The coil is malleable and easy to weld; it can be bent or cut arbitrarily; the coil with shaft will not kink, is not easy to wear, and can be used with confidence.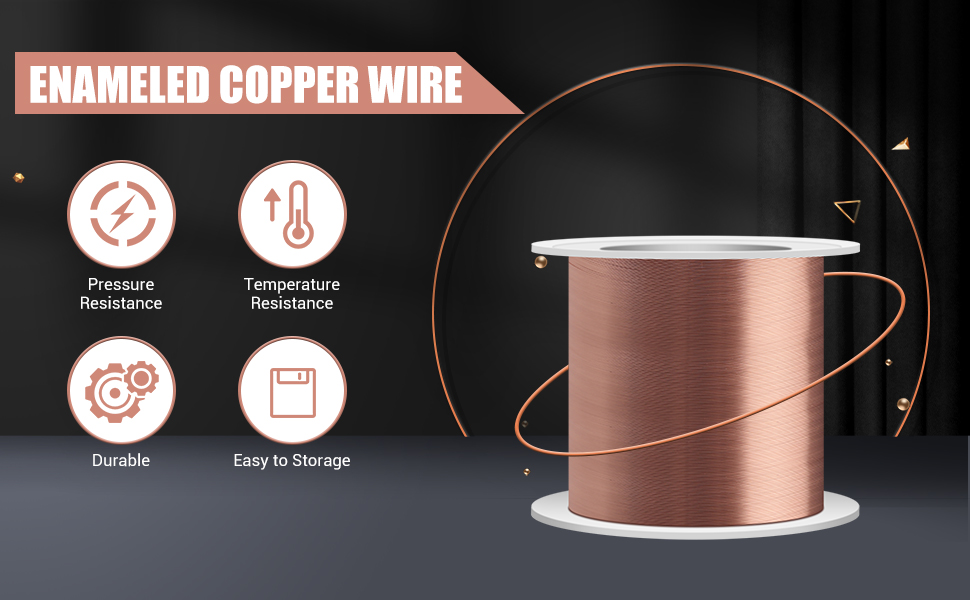 Enameled wire, also known as insulated copper wire, inner pure copper, surface insulating paint, polyester patent leather.

Specifications: Cut as much as you want, you can choose the length at will, easy to store .

Please look at the marked size and length, and choose the product according to the specifications you want
Magnet Winding Wire Transformer Insulated Copper Coil, Withstand Voltage 3000-5000V, Temperature Resistance 130-180°C

| | | |
| --- | --- | --- |
| This enameled wire is made of pure copper inside, with insulating paint on the surface, and the insulating layer is made of polyester patent leather, which can protect the coiled wire from short circuit. | The pressure resistance range is 3000-5000V, and the temperature resistance is 130-180 ℃, which can meet various occasions. | The coil is malleable and easy to weld; it can be bent or cut arbitrarily; the coil with shaft will not kink, is not easy to wear, and can be used with confidence. |
Suitable for physical science experiments, small generators, motors, coils, transformers, inductance wires, copper wires for maintenance