DIY Kit NE555 Electronic Keyboard Music Playing Module Analog Circuit Electronic Soldering Practice Kits
| | | | |
| --- | --- | --- | --- |
| Quantity | 5+ | 10+ | 30+ |
| Price | $2.59 | $2.50 | $2.35 |
00d : 00h : 00m : 00s
Product Details
TJ-56-228 is a NE555 Electronic Keyboard Music Playing Module Electronic Soldering DIY Kit. Make different sounds by pressing different buttons.
It is a very interesting DIY electronic product which enables users to understand the circuit more clearly and learn soldering skills.
1>.Product Name: TJ-56-228 NE555 Electronic Organ Music Playing Module DIY Kit
2>.Work Voltage:DC 3V-12V
3>.Work Temperature:-40℃~85℃
4>.Work Humidity:5%~95%RH
5>.Size(Installed):135x22mm
(The key cap color is random in different batch, not always the same as picture)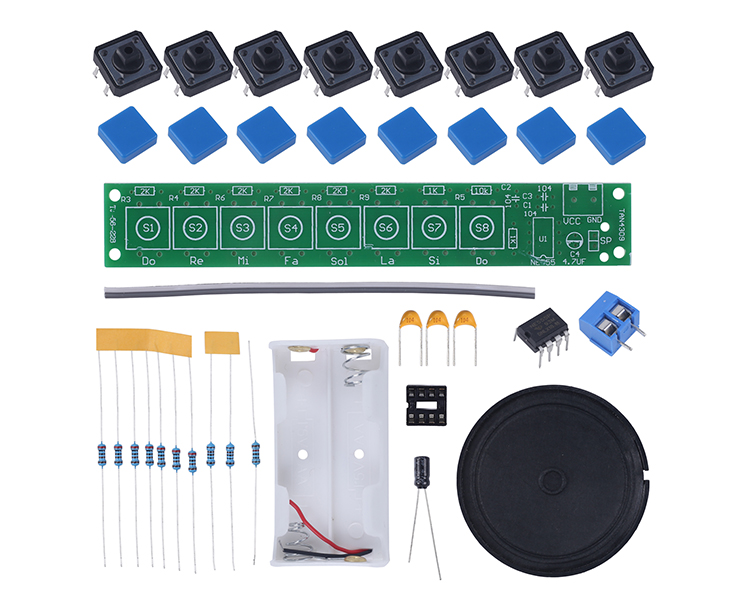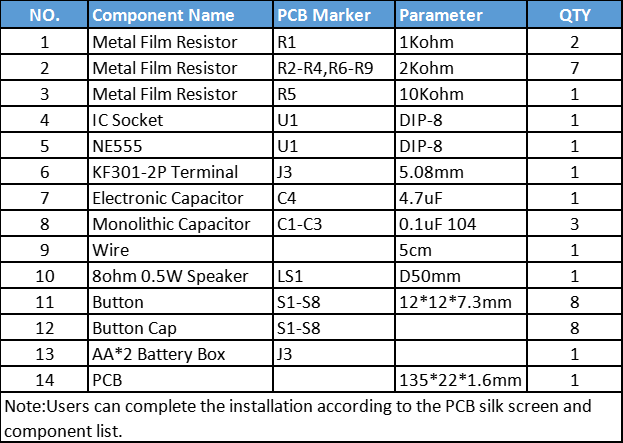 1>.User needs to prepare the welding tool at first.
1.1>.Soldering iron (<50 Watt)
1.2>.Rosin core ("radio") solder
2>.Please be patient until the installation is complete.
3>.The package is DIY kit.It need finish install by user.
4>.The soldering iron can't touch the components for a long time(1.0 second), otherwise it will damage the components.
5>.Pay attention to the positive and negative of the components.
6>.Strictly prohibit short circuit.
7>.User must install the LED according to the specified rules.Otherwise some LED will not light.
8>.Install complex components preferentially.
9>.Make sure all components are in right direction and right place.
10>.It is strongly recommended to read the installation manual before starting installation!!!
11>.Please wear anti-static gloves or anti-static wristbands when installing electronic components.